Your body wasn't designed to sit all day!
This chair is the result of years of research, prototyping, and testing to solve that problem.
Our unique Sit In Motion® technology acts like a swing to relieve crucial pressure points while providing lumbar support. Created by a chiropractor and industrial product designer, this is the first and only chair that can induce perfect posture and give you the freedom to move.
Features:
Soft high-grade vegan leather upholstery
Foldaway arms allow you to move closer to your work for reduced eye strain
Pneumatic seat-height adjustment
360-degree swivel
Smooth-rolling casters
Assembly instructions included. (It's easy — takes less than 10 minutes)
While the optimal height range for this chair is 4′ 11 ½″ (151 cm) to 6′ 1″ (186 cm), some of our customers who fall outside of this range have still found it to be a comfortable fit.
The seat height is 21.75″. The adjustable range is 18.75″–21.75″.
Maximum weight capacity 275 pounds.
Chair Size

22 ¼–30″W × 26 ¼″D × 41″–44″H

Seat Height

18 ¾″–21 ¾″

Seating Area Depth

17 ½″

From Arm to Floor

24 ¾″–27 ¾″

Seat/Back Cushion Size

30 ¼″W × 26 ½″D × 18″H

Carton Size

30 ¾″L × 21 ½″W × 26″H

Container Loading

84 / 180 / 239 / 271

Weight

N.W. 48.86 lbs, G.W. 60.28 lbs

Foam

Molded foam

Arms

Solid PU arm pads

Gas Lift

CP-1680-45 (80/185 mm drop down 45 mm)
all33.com purchases come with a 60-day Money Back Guarantee unless otherwise stated at the time of purchase.
If you are not satisfied, you may return the item within 60 days of purchase for a refund of the purchase price. You will be responsible for return shipping costs, which vary by carrier.
It can take some time for your muscles to adjust to proper posture. We recommend you keep and use your chair for at least 10 days to allow your body to properly adjust because of the unique functionality of our Sit in Motion® technology. Please keep the box until you are confident you are satisfied.
If you still wish to request a return after 10 days, please call all33 Customer Support at (855) 223-6010.
If you'd like to exchange your all33 chair for another, you must request an exchange within two weeks of your original purchase. We cover initial delivery fees, however, all exchanges are subject to a $150 charge to cover shipping and restocking costs.
Sit in The BackStrong and Gain:
Ideal posture and
greater flexibility
Better blood flow
to reduce fatigue
More oxygen
to your muscles
Relief from neck
and shoulder strain
Product Features
Slouch-Proof
Unlike regular chairs that allow you to lean back at unsafe angles, ours was designed to fit the curve of your spine perfectly. This design cradles your pelvis and lower back, causing your vertebrae to stack into ideal posture. Sit back, and you'll find it's impossible to slouch. The result? Relief in your neck and shoulders and a difference you can feel.
Made to Move
Our Sit In Motion® technology makes this the only chair in the world that allows natural movement of the pelvis and back. It was built to move and rock with you, stimulating circulation, improving flexibility, and bringing more oxygen to your muscles.
Easy on the Eyes
Foldaway arms allow you to move much closer to your desk and reduce eye strain. Plus, our commitment to making things that last means we source materials carefully to create chairs that look sleek and at home in your space.
Product Features
1. Sit in Motion® Technology
A patented, one-of-a-kind pivot function that keeps you healthy by freeing you to move while you sit.
2. Adjustable Arms & Seat Height
Find your ergonomic happy place by moving the seat up or down until your feet are flat on the floor. Scoot close to your setup for reduced eye strain with liftaway arms.
2. Adjustable Arms & Seat Height
Find your ergonomic happy place by moving the seat up or down until your feet are flat on the floor. Scoot close to your setup for reduced eye strain with liftaway arms.
Black Vegan Leather

Black Fabric

Tan Vegan Leather

Tan Fabric

Red Vegan Leather

Red Fabric
3. High-Quality Materials
Choose between soft, easy-to-clean high-grade vegan leather or fabric upholstery.
4. Padded Seating
Built for all-day comfort, our Goldilocks-level padding is designed to fit with the chair's lumbar support and induce ideal posture.
60 Day Guarantee
We know you'll absolutely love your chair, but if for some reason it isn't right for you, we'll refund you the cost of the chair within 60 days of purchasing. Our chairs also come with a Limited Lifetime Warranty on all components with a one year warranty on cushions. For more details about our warranty click here.
How We Line Up
Features
BackStrong C1
Leading Office Chairs
Leading Ergonomic Chairs
Induces perfect posture by aligning all 33 vertebrae

Revolutionary tech that keeps you in motion

Chiropractor designed and doctor recommended

Boosts energy through increased circulation and movement

Enhances performance and focus, ideal for long hours of work

Improves breathing & digestion

Sleek and stylish design

"Named Best Ergonomic Chair for Back Pain" by Popular Science
Built with Care
Adjustable
Completely adjustable seat-height lever, as well as a 360-degree swivel with smooth rolling coasters.
Simple
From product design to technology, we value simplicity. With 6 simple pieces, the chair can be assembled in less than 10 minutes.
Sustainable
All of the components of our products are built with sustainability in mind and are 100% recyclable.
Customer Reviews
Write a Review
Ask a Question
10/24/2021
Donald C.

United States
Review of the Backstrong C1 chair
The seating position is, at first, a bit unusual. But once settled in the support it provides for my lower back is excellent and I can comfortable sit for extended desk time (well, until my Apple watch tells me to "stand" ! )
10/23/2021
Rich G.

United States
Pricey...GREAT for your back! Highly recommended though.
I have to say was a little skeptical about purchasing a chair for $700.00! I always like to try them out first. I took a chance, glad I did. The BackStrong C1 has to be the BEST computer chair I ever owned. First I like to say customer support was GREAT. Asking questions was replied within minutes in an email. Thank you Sue. Shipping was fast...arrived in (5) days. Assembly took around 8 minutes. Then I sat on it...WOW! GREAT back support. Wish the price was cheaper and the seat softer. Other than that chair is perfect. Like they say "you pay for what you get"! Highly recommended.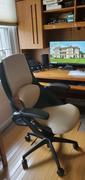 10/17/2021
Brad B.

United States
Very comfortable and great for me
I am very glad I purchased this chair. I want back to work after three years of being home with the kids and I wasn't used to sitting for so many hours looking at the screen. After a few weeks back to work, I had shoulder tightness and lower back pain. This chair corrected all my issues and also forces me to sit better. I love the chair and it was the right purchase for me!!
10/11/2021
Ron J.

United States
Great So Far
So far the chair is great, feels good. not a fan of the fake leather, but love the constant pressure on my lower back. I ordered a second one for the house.