Your body wasn't designed to sit all day!
This chair is the result of years of research, prototyping, and testing to solve that problem.
Our unique Sit In Motion® technology acts like a swing to relieve crucial pressure points while providing lumbar support. Created by a chiropractor and industrial product designer, this is the first and only chair that can induce perfect posture and give you the freedom to move.
Features:
Soft fabric upholstery
Foldaway arms allow you to move closer to your work for reduced eye strain
Pneumatic seat-height adjustment
360-degree swivel
Smooth-rolling casters
Assembly instructions included. (It's easy - takes less than 10 minutes)
While the optimal height range for this chair is 4′ 11 ½″ (151 cm) to 6′ 1″ (186 cm), some of our customers who fall outside of this range have still found it to be a comfortable fit.
The seat height is 21.75″. The adjustable range is 18.75″–21.75″.
Maximum weight capacity 275 pounds.
Chair Size

22 ¼–30″W × 26 ¼″D × 41″–44″H

Seat Height

18 ¾″–21 ¾″

Seating Area Depth

17 ½″

From Arm to Floor

24 ¾″–27 ¾″

Seat/Back Cushion Size

30 ¼″W × 26 ½″D × 18″H

Carton Size

30 ¾″L × 21 ½″W × 26″H

Container Loading

84 / 180 / 239 / 271

Weight

N.W. 48.86 lbs, G.W. 60.28 lbs

Foam

Molded foam

Arms

Solid PU arm pads

Gas Lift

CP-1680-45 (80/185 mm drop down 45 mm)
all33.com purchases come with a 60-day Money Back Guarantee unless otherwise stated at the time of purchase.
If you are not satisfied, you may return the item within 60 days of purchase for a refund of the purchase price. You will be responsible for return shipping costs, which vary by carrier.
It can take some time for your muscles to adjust to proper posture. We recommend you keep and use your chair for at least 10 days to allow your body to properly adjust because of the unique functionality of our Sit in Motion® technology. Please keep the box until you are confident you are satisfied.
If you still wish to request a return after 10 days, please call all33 Customer Support at (855) 223-6010.
If you'd like to exchange your all33 chair for another, you must request an exchange within two weeks of your original purchase. We cover initial delivery fees, however, all exchanges are subject to a $150 charge to cover shipping and restocking costs.
Sit in The BackStrong and Gain:
Ideal posture and
greater flexibility
Better blood flow
to reduce fatigue
More oxygen
to your muscles
Relief from neck
and shoulder strain
Product Features
Slouch-Proof
Unlike regular chairs that allow you to lean back at unsafe angles, ours was designed to fit the curve of your spine perfectly. This design cradles your pelvis and lower back, causing your vertebrae to stack into ideal posture. Sit back, and you'll find it's impossible to slouch. The result? Relief in your neck and shoulders and a difference you can feel.
Made to Move
Our Sit In Motion® technology makes this the only chair in the world that allows natural movement of the pelvis and back. It was built to move and rock with you, stimulating circulation, improving flexibility, and bringing more oxygen to your muscles.
Easy on the Eyes
Foldaway arms allow you to move much closer to your desk and reduce eye strain. Plus, our commitment to making things that last means we source materials carefully to create chairs that look sleek and at home in your space.
60 Day Guarantee
We know you'll absolutely love your chair, but if for some reason it isn't right for you, we'll refund you the cost of the chair within 60 days of purchasing. Our chairs also come with a Limited Lifetime Warranty on all components with a one year warranty on cushions. For more details about our warranty click here.
Built with Care
Adjustable
Completely adjustable seat-height lever, as well as a 360-degree swivel with smooth rolling coasters.
Simple
From product design to technology, we value simplicity. With 6 simple pieces, the chair can be assembled in less than 10 minutes.
Sustainable
All of the components of our products are built with sustainability in mind and are 100% recyclable.
Customer Reviews
Write a Review
Ask a Question
06/18/2021
deborah b.

United States
So great my chair kept being borrowed.
I bought my first All33 chair for my craft room and instantly fell in love with it. After a couple weeks my oldest son sat in it and "borrowed" it. I ordered a 2nd chair for my craft room, and then my husband sat in it and fell in love with it so, we moved it to his home office, and I ordered a 3rd one. I have a feeling when my youngest son comes home to visit, he'll want one as well. For reference, I'm 5' 2.5" and the men in my family ar 6'3"-6'6" and it fits all of us perfectly. It's a miracle chair.
04/19/2021
Jim C.

United States
Instant Satisfaction!
I instantly found myself spending all my time in the all33, replacing both my soft leather lounge chair and my massage chair. I found that Incredible! After the first day my lower back felt much looser and I was not sore after standing for the first time. Why would I spend all my time in this one smaller chair? The results explained it all! I'm very impressed with the quality!
04/05/2021
Travis W.

United States
Changed my life
I was very skeptical about spending this kind of money on a chair but I do work 9 hours a day in one and figured most of my back pain probably stems from that. I've had the chair for a few weeks now and this is honestly the most comfortable chair I've sat in. The support is excellent and I notice that I'm sleeping better at night as well. Overall, I would purchase this again without any apprehension now knowing what I know.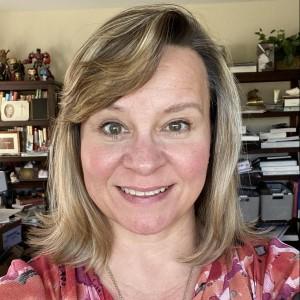 MB
03/30/2021
Michelle B.

United States
Can now sit without pain and stiffness
I've had this chair for almost a year. Before this chair, I could only sit at my desk for about 20 mins and when I got up to walk around my hips and low back were stiff and painful. If you look at the reviews, they seem to be too good to be true. But after having this chair for a year, I know that these are real. The moving seat and it's design means relief for your tail bone, low back and hips. When the chair comes, they give you a seated exercise that strengthens your core by purposely making the saddle portion move. I usually do that exercise a few times each day and it's super easy. I'd say it took me about 10 days to two weeks to get used to the chair, particularly as my muscles and posture started to adjust. But now I can sit and I don't have any pain while sitting and only mild stiffness (no pain) after getting up. Looking back to how difficult sitting was before this chair and now, I am now ready to #sharemychair. I couldn't be happier. Also, there was a problem with the saddle section when it arrived. It had too much padding at the top portion and rubbed against the chair, restricting motion. Customer Service sent me a new saddle section (no charge and didn't need to return the defective saddle) and then the chair worked as expected.
01/24/2021
Herb G.

United States
I was Dubious ... Now I'm a Believer
I admittedly was very dubious about the Backstrong when I first heard about it from my chiropractor, who (disclosure) is also a friend of the chair's inventor. I mean, a rocking bucket for the seat …. REALLY? We would discuss it the few times I went in to deal with some ache or pain, most if not all caused by the amount of time I spend sitting. I have spondylolisthesis and, as a writer who also runs a small research business, I sit much of the day and focus. That is NOT a good combo, which is why ergonomics and back support are VERY important to me. Over the years, I have spent thousands on chairs. For at least 10 years my chair was the Humanscale Freedom Chair. But I always complained it was too hard, especially at my tailbone and lower spine. Then, after doing an enormous amount of research and test-sitting, I switched to the Herman Miller Embody. The Embody's concept (in theory, at least) seemed to make sense since it uses tiny spring-like pixels that supposedly release pressure as your body moves. That was my chair for at least the last six years. But I still had uncomfortable pressure in my tailbone and lower spine. And I would be stiff when I got up after hours of sitting. I'm 68, so I simply figured that was to be expected. But still… I hated the stiffness of my spine, especially since I regularly exercise and do stretching exercises. With both the Freedom Chair and the Embody, I also always grumbled that neither would tilt forward or do something so I wouldn't slouch as I would focus on writing. Then, about a year after my chiropractor first told me about it – after feeling the sitting was really starting to take a toll – I took the plunge. The Backstrong was on sale for Black Friday and was priced at about half the price of Embody with a money-back guarantee and a long trial period. I had ZERO to lose. Verdict: Let's just say the Embody is now in the garage and will likely be sold or donated. The silly bucket on the Backstrong isn't so silly, after all. For the first time in years, I can feel my vertebrate move (while I'm sitting, no less), at times like I'm having a minor adjustment. The REAL secret, I think, is that there is no chair – just air – where your tailbone is. That results in zero pressure. Some people have complained that it's too hard. Well, it isn't soft. But the benefit of that is that you are forced to stand every now and then. Let's face it, there is no perfect chair; they ALL have tradeoffs. The Backstrong is closer to their claim of slouch proof WHILE YOU ARE WRITING than any chair I have seen or tried. This is a serious task chair with the added benefit of being able to rock your pelvis as you sit, so your lower spine doesn't get stuck. (Think of the rocking pelvis exercises you might do while on your back.) The best news, I'm no longer stiff when I stand after hours of sitting. Certain pains have disappeared or have been minimized. My only complaint about the chair is the quality. The first chair they sent had a pretty bad squeak. That was immediately handled by the fantastic Sandra in customer relations. I have no idea who she is, but she deserves a raise. I also think the casters that come with the chair are too slick for hard flooring. I know that mine was. Solution: I replaced them with the wood-floor casters that I had ordered with my Embody. All in all, in my case this chair appears to REALLY be what the doctor ordered!